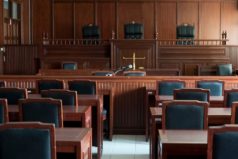 A confession by a defendant is an extremely powerful aspect of a criminal case. This is why police work so hard to persuade someone to admit to a crime prior to their obtaining an attorney. Tactics to coerce someone into a confession have, in fact, been commonplace since our nation was created and this is why the Fifth Amendment was adopted to preclude the government from forcing citizens to self-incriminate. If you have been charged with a criminal offense and provided a confession prior to your obtaining representation, you definitely want to read this article closely. A lawyer who is knowledgeable and skilled in Miranda Hearings may be able to change the entire complexion of your case.
Over 200 years of collective experience litigating complex suppression issues involving Miranda and other constitutional right violations
10 lawyers that limit their practices exclusively to criminal defense
Former county prosecutors who have served as Director of Major Crimes, Drug Task Force, Special Operations, Domestic Violence, Juvenile, and even an entire Trial Division
Certified criminal trial attorneys
To speak to an attorney at the firm anytime 24/7 in a free initial consultation, call 877-450-8301. Lawyers are available immediately to assist you.
How To Challenge An Illegal Confession in New Jersey
There are basically two opportunities to challenge a confession obtained in violation of someone's rights. The first chance for attacking the statement is through a pretrial motion to suppress the testimony brought in accordance with N.J.R.E. 104(c). The state bears the burden of proving, beyond a reasonable doubt, that the defendant's statement was voluntarily and intelligently made. What this contemplates is that the accused was aware of his/her right to be represented by an attorney and knowingly waived this right despite unequivocal knowledge that any incriminating information could be used against him. If the court finds that the state has fallen short in meeting this burden, the confession is suppressed and cannot be used in any context in proving the charges. Conversely, the confession is admissible against the defendant if the court finds that the required elements for waiver of Miranda Rights exist.
Even if the court rules that the statement and confession are admissible, there is a second opportunity to challenge its use against a defendant. In this regard, Rule 104 (c) provides that:
If the judge admits the statement the jury shall not be informed of the finding that the statement is admissible but shall be instructed to disregard the statement if it finds that it is not credible. If the judge subsequently determines from all of the evidence that the statement is not admissible, the judge shall take appropriate action.
What this rule essentially says is that despite a preliminary ruling that there was a proper waiver of rights, the jury can nevertheless disregard the confession if it concludes that it is not credible, for example, that it was never provided or that the facts simply aren't believable. The rule also provides authority for the trial judge to, after hearing the testimony presented to the jury, reverse his/her pretrial ruling that the confession was valid.
Protect Your Miranda Rights By Contacting An Experienced New Jersey Criminal Attorney At Our Firm
There are obviously opportunities to contest allegations of a confession or discriminatory statement to police. Your success in this regard definitely has something to do with the skill of the lawyers you select to represent you. The New Jersey Miranda Rights Attorneys at our firm, the Law Offices of Jonathan F. Marshall, have decades of experience handling suppression hearings to challenge the use of a statement by a defendant. If you would like to speak to a lawyer on our team any time of day or night about how we can help you correct an illegally obtained statement, call 877-450-8301 or contact us online for a free consultation.